The Spanish Audio Blaster ~ RELOADED~



INTRODUCTION
This is the Introductory Video in the Series. You can watch it now for free![Elite_video_player id="7″]
THE SPANISH AUDIO BLASTER RELOADED is part of THE SPANISH AUDIO BLASTER PREMIUM EDITION. If you purchased the standard edition and would like to upgrade to have access to this program or if you want the standalone version of THE SPANISH AUDIO BLASTER RELOADED, you can purchase the program below, for just $47
Online Access
Click on the chapter you want to work on.
THE SPANISH AUDIO BLASTER RELOADED VIDEOS
Introduction
Chapter 1: The 1st Principle of Speech
Chapter 2: The 2nd Principle of Speech
Chapter 3: More Principles of Speech
Chapter 4: Practical Applications (Exercises 1-5)
Some Parting Words

Tip:
You can always find the chapters faster by going to the TOP MENU of the screen and selecting MAIN MENU

LEVEL 2 SAB RELOADED DASHBOARD
---
Downloading THE SPANISH AUDIO BLASTER RELOADED E-book
You can download this Ebook to your computer, Ipod, Ipad or mobile devices.
Remember that this is for your own personal use only. Any other use of these materials is strictly forbidden, unless you have an
educational license
.
HOW TO DOWNLOAD THE E-BOOK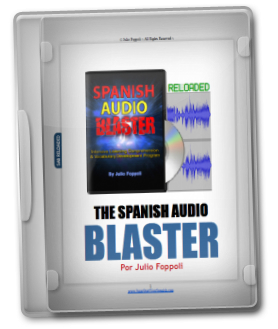 1) Put the mouse over the download link below (in blue) or over the picture.
2) Click the right button of your mouse.
3) You will see a menu. Choose SAVE AS, SAVE LINK AS, SAVE TARGET AS (or any similar option that your browser shows)
4) Select a Destination Folder and then Click SAVE (or OK depending on your browser)
5) The files are zipped. You will need a program to unzipped them. Most computers already have that software installed, but if you don't have it, you can get it for free here.
The Spanish Audio Blaster RELOADED ~ Download ~
(It is strongly suggested that you print out this E-book to work on the activities)
Important!
You need to have a PDF reader installed in your computer to open this file. Most computers already have it, but if yours doesn't, get your free PDF Reader here.