Use of  THE SPANISH AUDIO BLASTER purchased under a single user license is restricted to one single individual using the material for private personal use.  You cannot teach, sell, rent, lend or share your material with anyone without written permission from the author. Under this license you are not allowed to show the material in public or use it for any educational purposes beyond your own learning.
If you would like to use  THE SPANISH AUDIO BLASTER in schools, educational institutions or in groups, you need to buy an Educational License. Licenses are sold on a yearly basis.
Give your students authentic conversational Spanish for pennies to the dollar.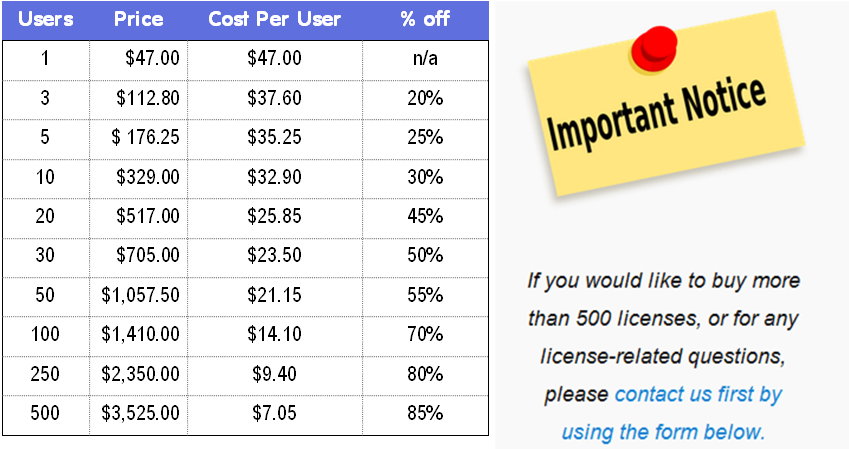 When will my account be activated?
If you pay with a credit card, your account will be activated immediately and your institution will have access to the contents for one full year. You will receive a master key that you can start to use immediately for the number of licenses that you have purchased. After that, you should send us a list of the users who will access these materials and their emails, so we will manually activate their accounts. This process usually takes between 24-72 hours depending on the number of licenses. However, from the very moment you purchase the program you and your institution will have total access to its contents.
Can I buy additional user accounts later?
Absolutely! You can add additional user accounts at any time. You will only have to pay the difference between 

the package prices, and we pro-rate  the number of months remaining on the subscription.
Can I change the user accounts during the year?
Yes. We understand that some students come and go so with a multi-license,  you control who has access to the content and you can add or remove users at any time as long as you stay within the number of licenses purchased.
Any questions before you sign up?
If so, please don't hesitate to contact us. You can use the form below or call us at (914) 613-3335.
Educational License Contact Form