Congratulations on your decision to work with a teacher. Nothing beats one-on-one interaction when it comes to second language acquisition. Use the booking form below to work with one of our certified native Spanish-speaking instructors.
But Remember:
The booking is tentative until confirmed by one of our operators. You will not have to pay anything until the lesson is confirmed by one of our operators. Upon confirmation, you will receive a Paypal invoice. Once paid, the lesson booking is firm.
Some Important Considerations:



he minimum time you can take is 30 minutes. However, for longer lessons, we have these limited-time offers: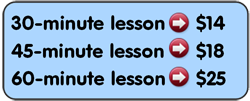 IMPORTANT!!!


When you book a lesson, use our local time as reference.



The clock shows the time in our location.
Calculate the time difference and book the lesson in OUR local time.
For example, if the clock above is showing 3PM but your local time is 5 PM, you know that we are two hours behind you. So if you would like to have your lesson at 10 AM your time, when you request the lesson, select 8AM (remember, we are two hours behind you) If you find this confusing, don't worry, you can always click here to contact us and let us know the country and city where you are located, and the time you want to have your lesson and we will solve the puzzle for you!
Thank you!
The Spanish Audio Blaster Team
---